Wendy's Joins First Women's Bank as Mission Partner
An Important Step Toward Recruitment and Increasing Representation Among Franchisees, Including Women Restaurant Operators
Read time: 1 min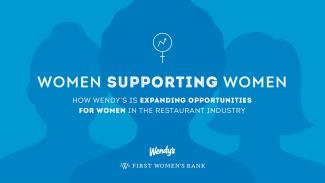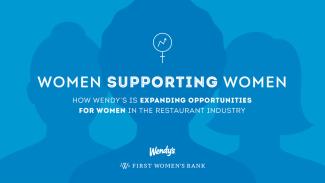 Last week, Wendy's® joined First Women's Bank, the first women-founded, owned and led commercial bank in the United States, as a Mission Partner. As a Mission Partner, Wendy's will support expanded economic opportunity for women-owned businesses. This announcement not only marks Wendy's commitment to First Women's Bank, but it also underscores the Company's continued investment to bridge the gender gap in lending and empower women.
"We are proud that Wendy's is a Mission Partner with First Women's Bank and are thrilled to help expand economic opportunities for women-owned businesses," said Abigail Pringle, Wendy's President, International and Chief Development Officer. "We look forward to seeing the impact First Women's Bank will have and partnering to create opportunity for new franchisees to join the Wendy's System."
Wendy's Supports Women in Franchising
At Wendy's, we believe the impact we make on others and our communities is just as important as the food we serve. As a global company, we make better business decisions, are better community members and create a more equitable workplace culture when we are inclusive and have diversity in our organization.
As outlined in our multi-year Diversity, Equity and Inclusion (DE&I) strategy, Wendy's is committed to increasing the diversity of our franchisees, as well as representation of underrepresented populations among our Company's leadership and management. Notably, one of Wendy's five focus areas is increasing representation of franchisees who identify as female and persons of color.
In addition to our commitment to First Women's Bank, we recently-created a $100 million strategic build-to-suit development fund designed to support franchisees. Build-to-suit is a type of commercial real estate leasing arrangement under which a developer or landlord agrees to construct a property according to the lessee's requirements, and the lessee agrees to lease the property from the developer upon its completion. It minimizes a franchisees' capital investment and allows them to lease/sublease directly from Wendy's for a slight premium.
This build-to-suit program, along with newly implemented lower and more competitive liquidity and net worth requirements for new franchisees, will help open the doors for more women and minority small business owners.
Grow with Us!
The restaurant industry provides entrepreneurs a path to advance their economic mobility. As Wendy's continues to advance equal access to opportunity, it's critical that we decrease the barriers that new business owners may face with tools, resources and training for success within our network.
To learn more about franchising opportunities within the Wendy's System, visit https://www.wendys.com/franchising.