Wendy's Reflects on 2022 Corporate Responsibility Achievements
Chief Corporate Affairs and Sustainability Officer, Liliana Esposito, shares progress across "Good Done Right" CSR strategy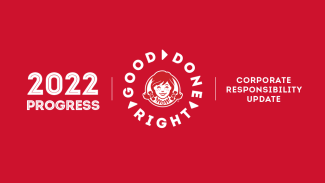 A year of achievement — and we're far from finished
Delivering high quality, great tasting food in a responsible way, helping our people prosper in an inclusive environment and reducing our environmental footprint – these are the elements that make up Wendy's approach to corporate responsibility, what we call Good Done Right.
Thanks to the continuous efforts of our restaurant team members, restaurant support employees, franchisees, suppliers and industry partners, we've made great progress across each of our Good Done Right focus areas since our latest Corporate Responsibility report published earlier this year. We wanted to take this opportunity to provide an update before our next report is issued in early 2023.
Food: Responsible Food Sourcing
Guided by our founding value of Quality is Our Recipe®, Wendy's remains committed to providing fresh food that is high quality, safe, transparent and sourced responsibly. 
In 2021, Wendy's announced a goal to responsibly source our top 10 priority food categories by 2030. As we work toward achieving this goal, we recently began important work with EcoVadis, the world's largest provider of business sustainability ratings, to conduct individual sustainability performance assessments of our supply chain partners. This tool will help us continue to evaluate our suppliers, recognize where each of them are on their own sustainability journey and benchmark against peers' progress, while also helping Wendy's demonstrate accountability and progress toward our responsible sourcing goal.
A central component of our commitment to responsible sourcing is animal care, and the Wendy's Animal Care Standards Program is the cornerstone of that effort. The program uses a detailed assessment tool to evaluate standards and practices in our protein supply chain and will inform the process for driving continuous improvement. This tool allows us to better track farm conditions and animal care, quantify the results and identify best practices, as well as better recognize progressive suppliers for their efforts. Since our last update, we have tailored and tested the assessment tool for our U.S. and Canadian beef, pork, chicken and egg supply chains, and are on track to evaluate 100% of our finished product suppliers in the U.S. and Canada within these supply chains by the end of this year. We continue to expect to have a comprehensive accounting of U.S. and Canadian animal care best practices for all these categories by the end of 2024. Additionally, we recently began testing the assessment tool within our U.K. beef, pork and chicken supply chains – further extending the reach of our Animal Care Standards Program.
We also continue to make progress on our sow housing commitment. In 2012, Wendy's announced a 10-year goal to transition our pork supply chain in the U.S. and Canada away from sow gestation stalls (individual enclosures), in favor of open pen or group housing. This shift allows confirmed pregnant sows to socialize and exhibit natural behaviors. We are on track to complete this transition away from sow gestation stalls for confirmed pregnant sows in our U.S. and Canadian supply chain by the end of this year. More information about our gestation stall policy and progress can be found on our website.
This year we recognized our partner, Ecolab® for their commitment to supporting quality and food safety at Wendy's. Through its EcoSure® program, the company has completed more than 10,000 food safety assessments at Wendy's restaurants across the globe so far in 2022. This award recognizes suppliers who exemplify a commitment to enhancing Wendy's corporate responsibility pillars of Food, People and Footprint. In addition to helping to support Wendy's commitments to food safety, Ecolab has also helped remove more than 630,000 plastic gallon bottles through proactive packaging changes, representing approximately 187,000 pounds of plastic and 70,000 pounds of corrugate, from our System annually – directly reducing Wendy's waste footprint. They are also a generous supporter of Wendy's signature charity partner, the Dave Thomas Foundation for Adoption®, a national, nonprofit public charity dedicated to finding forever families for the more than 140,000 children waiting to be adopted from foster care in the U.S. and Canada. From inside our restaurants to the broader environmental impact, this is a partnership we're proud to celebrate. These are some of the reasons why Ecolab is the latest recipient of our annual Good Done Right Award.
People: Inclusivity and Philanthropy
Being a part of Wendy's — as a franchisee, employee or business partner — should be a rewarding, supportive and positive experience.
We are committed to paving a path for more entrepreneurs to join the Wendy's family. This year, we opened doors to franchise ownership with the launch of Own Your Opportunity, a program created to help increase both accessibility and diversity across franchisee candidates, including among women and people of color. Own Your Opportunity is designed to help remove some common barriers to entry for franchisee candidates with new liquidity and net worth requirements, expanded economic opportunities with preferred lenders, more locations in underserved areas, and new restaurant formats that require a lower initial financial commitment. We are excited about the Own Your Opportunity initiative and its potential to support positive change in the franchising industry.
Within our walls, we are focused on creating a welcoming, supportive environment for all employees. Earlier this year, Wendy's was recognized as a Human Rights Campaign Best Places to Work for LGBTQ+ Equality for the third year in a row. Additionally, Wendy's corporate employees lead several Employee Resource Groups (ERGs) which are open to all corporate employees and help promote learning, inclusion and support among people with shared life experiences. Our newest ERG, GiveCare, launched this year to provide support and resources for parents and caregivers and to offer a safe space for employees to share these experiences. It's important that all employees feel supported so they can care for others, and themselves, at work and at home.
This year, through our philanthropy and Community Giving Program, Wendy's committed nearly $200,000 to organizations in the U.S. and Canada in support of our giving pillars, which include foster care adoption, hunger and food integrity, youth and families, and vibrant communities. In addition to supporting our continued partnership with the Thurgood Marshall College Fund, the program also made grants of up to $10,000 each to other charitable organizations and causes including food pantries, crisis centers and family support groups across the country.
During our 2022 annual Franchise Convention, we recognized 200 Top General Managers as the System's best of the best for their strong leadership and dedication to creating great restaurant experiences. We also welcomed franchisees Raul Dominguez and Jorge Colon Gerena into the Wendy's Hall of Fame, in honor of their many achievements and contributions to the Wendy's family over the past few decades. Jorge is a second-generation Wendy's franchisee and owns and operates more than 80 Wendy's restaurants in Puerto Rico and has made major investments in communities across the island — even doubling down on his commitment after Hurricane Maria devastated many of his restaurants in 2017. Raul is also well-respected across the System having served as the first-ever Hispanic President of Wendy's National Advertising Program (WNAP) in 2015. He has been an early adopter of our energy and water savings programs and has met efficiency standards in these categories in record time, even receiving recognition from the U.S. Department of Energy's Better Buildings® Challenge. Not only was he the first Wendy's franchisee to become a Better Buildings Challenge Goal Achiever, but he was also the first of any quick service restaurant franchisee nationally to do so.
Footprint: Environmental Sustainability
We also made notable progress this year on our way to reducing emissions and water usage across the System.
One of the ways we are cutting emissions within our operations is by procuring clean energy. Through a collaboration with Duke Energy Florida's Clean Energy Connection program, seven of our Company-operated restaurants in Central Florida will power their operations with solar energy by the end of this year. Our participation in this program will also support 10 solar generating sites, which will supply participating Duke Energy customers, including small businesses and area residences, with renewable energy.
For the second year, Wendy's reported climate data to CDP, a leading framework for climate reporting. By disclosing and sharing context regarding our Scope 1 and 2 greenhouse gas emissions, and partially reporting our Scope 3 emissions, we are preparing to report and measure progress against the science-based target. We have submitted our proposed science-based target to the SBTi for validation and approval and look forward to disclosing in 2023.
Wendy's and two of our franchise organizations are members of the U.S. Department of Energy's Better Buildings® Water Challenge, which holds us accountable to decrease water use within our operations. This year, Carlisle, LLC, a Wendy's franchisee that operates more than 150 restaurants in the southeastern U.S., surpassed its own Better Buildings Water Challenge goal by achieving a 28% reduction in water use intensity – seven years ahead of schedule. Carlisle took several actions to meet its goal, including adding new taps to monitor irrigation usage, replacing water-cooled ice machines with condenser-cooled ones, and tightening leak detection at high-use locations.
More work to come
It's exciting to see and celebrate our progress on our way to achieving our corporate responsibility goals. It's a testament to the hard work and ingenuity of many people inside and outside our organization, and we are not slowing down.
As we look ahead to 2023, we are committed to collaborating internally across our system and externally with key stakeholders to champion Good Done Right. We will continue to keep you informed of our progress.