How Wendy's and the Thurgood Marshall College Fund are Partnering for Social Justice
Read time: 1 min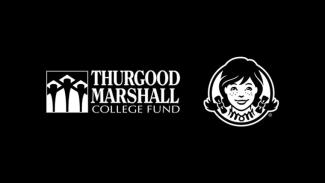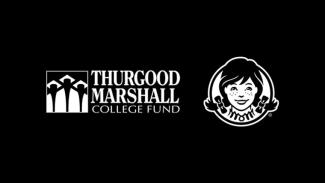 At Wendy's, our values guide us in all we do, and we especially take pride in our brand values Treat People With Respect and Do The Right Thing. Recent events have made it clear that, to fully live these values, we need to take proactive steps and be part of a solution to unravel centuries of systemic racism – but first, we must listen and learn.
That's why we're dedicated to advocating for social justice and change by using our platforms.     We have committed additional resources to support social justice, youth and education in the Black community. Proactive steps - to uphold our values.
Last year, Wendy's began supporting the Thurgood Marshall College Fund (TMCF) which provides students from Historically Black Colleges and Universities (HBCUs) with scholarships and opportunities for professional development, training, and career management. In 2019, Wendy's joined the TMCF Leadership Institute, where many of our VPs and Directors met with more than 100 students and ultimately, hired a student to join our Accounting team.
As part of our enhanced commitment to support social change, we are honored to continue our relationship with TMCF and significantly increase our support.
On July 2 (coincidentally, Thurgood Marshall's birthday!) we brought this partnership to life with a social media take over by handing TMCF the reins to our Twitter and Instagram to share more about who they are, what they do and how our team at Wendy's and our fans can make a difference. And later this year, we'll attend the TMCF Leadership Institute virtually. In addition to meeting and interviewing students, we're excited to lead one of their plenaries and several breakout sessions, where we'll provide business insights to students.
In case you missed the take overs, read on to learn more about what we asked TMCF!
What is the Thurgood Marshall College Fund?
The Thurgood Marshall College Fund is an American non-profit organization that supports and represents nearly 300,000 students attending its 47 member-schools that include public Historically Black Colleges and Universities (HBCUs), medical schools, and law schools.
What is TMCF's mission?
To ensure student success by promoting educational excellence and preparing the next generation of workforce talent through leadership development.
What is the impact of the organization?
TMCF provides unparalleled access to a funnel of opportunities for students to journey to college, through college and into a career. Despite the universal challenges that face today's college bound student, TMCF transforms the lives of thousands of students each year. TMCF boasts an 80-90% graduation rate of its Scholars - compared to a 40% graduation rate for Black/AA students overall, 37% graduation rate for students attending HBCUs, and a 62% graduation rate for all students irrespective of race/nationality or whether they attended an HBCU.
What are HBCUs?
Title III of the Higher Education Act of 1965, Congress officially defines a Historically Black College and University, as a school of higher learning that was accredited and established before 1964, and its principal mission was the education of African Americans.
Your tweets tell awesome success stories of students who were given a chance, thanks to your organization. It seems to mean a lot to them. What would you say is the importance of higher education for the Black community, especially now?
Financial support is always great and helps the sustainability of @tmcf_hbcu to ensure we are around for years to come supporting our #HBCU students. Also, share what @tmcf_hbcu is doing with your network!

Like @TerrenceJ said, give at https://t.co/xlkM325qC0!#HBCUs #HBCU pic.twitter.com/WpgcfdBKiw

— TMCF (@tmcf_hbcu) July 2, 2020
Historically, HBCUs have produced generations of American leaders, helped to expand the Black middle class, and generated millions of college degrees. The HBCU legacy includes alums like our National Ambassador, Terrence, a graduate of North Carolina A&T.
Publicly supported HBCUs have produced some pretty big names over the years…want to highlight an alum?
Sure! Of course, our namesake, Thurgood Marshall, the First African American Supreme Court Justice who was an alum of both Lincoln University and Howard Law School.
We're all looking for opportunities to continue supporting an initiative like this. How can some of our followers make a difference today?
Financial support is always great and helps the sustainability of TMCF to ensure we are around for years to come. Also, share what TMCF is doing with your network! And give at tmcf.org/invest.
We're grateful for the opportunity to partner with TMCF - we learned so much in the process and so did our fans and followers! Many thanks to the TMCF team for partnering with us, and we look forward to more opportunities to work alongside you to advocate for social justice.