What Kind of Pickles Does Wendy's Use?
Learn more about this sandwich topping and why they changed in 2020
Read time: 1 min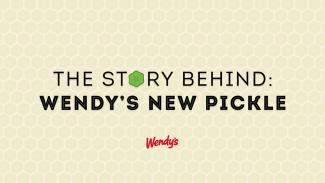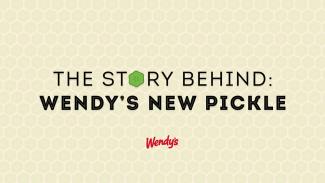 Wendy's is Fast Food Done Right – and when we say, "done right," we mean down to every last, little ingredient. Yes, including the Wendy's pickle. We've noticed some questions coming in about our pickles, so we sat down with the expert himself, our Vice President of Culinary Innovation John Li, to get you some answers on this talk-of-the-town sandwich topping.
John Li joined Wendy's in 2019 and wasted no time in helping our culinary team put a stake in the ground, defining what good food means to us and sharing that with our fans. Thus, our food vision, Fast Food Done Right, was introduced. Since then, John has worked with our culinary and research teams to bring the food you know and love from the Wendy's kitchen to the menu to your to-go bag. He also happens to be a big pickle fan.
Did Wendy's change their pickles this year?
Yes, we did! As you'll see on some of our sandwiches, we transitioned from our artisan pickle to a simpler pickle this year. The previous, delicatessen-style pickle – or as I call it, the "fancy pickle" – was similar to a kosher dill pickle, or the type you would find at a farmer's market. Our new pickle is, in a word, old-school. The kind of pickle your grandma served. It's simple, yet more flavorful than our previous pickle. And, man, is it good.
Additionally, our new pickle arrives in restaurants at an ambient temperature, which reduces complexity for our supply chain and crew members. They also come in a smaller pack size, making it much easier for Wendy's crew to handle while also reducing waste. And one other thing worth mentioning: because these pickles use a fermentation process versus a brining process, they have a more consistent quality and flavor profile giving you that classic pickle kick with every bite.
Why did Wendy's change their pickles?
It's crazy how much something as small as a pickle can affect the experience of eating a sandwich! The right pickle has the ability to add a crisp, sweet (yet salty) crunch that we find a lot of our fans enjoy. And its impact is not to be underestimated. We recently went through an extensive research process and tested multiple versions of a new sandwich coming out this fall (shh!), and the version with our new pickle outperformed the others … by a long shot.
We even explored other condiment options, like slaw and pickled onions, that could replace the pickle but decided they might fit better on future menu items. You'll have to wait and see how we incorporate them!
How would you describe the flavor profile of the new Wendy's pickles?
Good, old-fashioned hamburger pickles. We make sure they are fermented for a long time, so they really pack a flavor punch. You only need a few on your sandwich in order to get the full flavor you deserve from a pickle. We're not trying to do anything fancy. We trust the simplicity of a traditional dill pickle.
Are Wendy's pickles here to stay?
You bet. This is a classic sandwich topping that deserves a reoccurring role! While they may not come on every sandwich, our sandwiches are made fresh to order, so you can always ask a Wendy's crew member to add them.
I love them because they pump up the "umami factor" of a sandwich, amplifying all of the other flavors. Yes, please!  
"Umami factor"!? What does that mean?
Umami is commonly referred to as the fifth taste, after sweet, bitter, sour and salty. There are several ways to create this taste, including pairing acidity (tartness) with savory flavors. Think of some of your favorite foods from around the world: pad Thai with lime, Polish sausage with sauerkraut, fries with ketchup and Chicago hot dogs with mustard (hold the ketchup if you're in Chicago of course).  Each of these achieves umami with this balance of flavors. The pickle acts in the same way by brightening the flavor of its sandwich – which is a great thing.
What does Wendy's put on their burgers?
Ultimately, it's up to you. All of our Wendy's sandwiches are made-to-order. But if you must ask, a traditional, by-the-book Dave's Single® comes with a quarter-pound* of fresh beef, American cheese, crisp lettuce, tomato, pickle (of course), ketchup, mayo and onion on a toasted bun.
Why are pickles so polarizing?
Some people are more sensitive to tart, sour flavors. Plus, some people just don't like dill, which is what makes our pickle taste like a pickle. If that's you, it's as easy as asking the Wendy's crew to hold the pickles. But if you love that classic pickle flavor, it's something you absolutely crave from time to time –extra pickles are always a made-to-order option too.
What do you think makes the pickle such a popular sandwich topping, particularly on fried chicken sandwiches?
Because of the sandwich's basic, "heavier" ingredients – the bun, mayo, and fried chicken – it needs a "brighter" ingredient to add acidity to the meal without overpowering it. Wendy's mayo is quite rich, so in order to brighten our chicken sandwiches, we feel like there's a need for something more vinegar-y like a pickle to balance the flavors. Same goes for our burgers with beef!
You can check out our full menu for additional nutrition and ingredient information for all of our sandwiches and find the closest Wendy's serving quality food, including pickles, near you.
Whether you're on Team Pickle or not, be sure to sign up for Wendy's Rewards™ program so you can get rewarded for something you're already doing: eating at Wendy's.
* Approximate weight before cooking. Fresh beef available in the contiguous U.S., Alaska and Canada.
Wendy's Rewards™ available at participating U.S. Wendy's.  My Wendy's account registration and account use required to earn points and redeem rewards. Points have no monetary value.  See www.wendys.com/Rewards for details.