Wendy's Opens 400th restaurant in Canada
And QSR Innovations in the Market
Read time: 1 min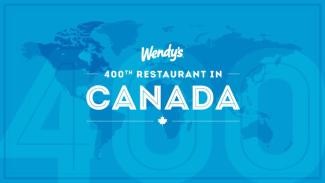 Wendy's loves Canada. And we see a ton of potential to grow the brand and bring more Wendy's to more customers across the country.
Wendy's History In Canada
We initially brought the fresh beef to our Canadian neighbors in 1975, when we opened our first restaurant in Hamilton, Ontario. That was just six years after the original Wendy's opened in downtown Columbus, Ohio. Wendy's has since become the first national brand in the Canadian QSR industry to serve greenhouse-grown lettuce in every restaurant across the country and piloted the use of REEF delivery kitchens in Canada for Wendy's, which are now being rolled out across Canada, the U.S. and the UK.
Wendy's 400th Canadian Restaurant Opening
It's clear: Wendy's has a long-standing history of innovation in Canada. That's one of the reasons we're very excited about the opening of the 400th restaurant in the country (on Carling Ave. in Ottawa, to be exact) on November 15; this milestone marks a period of significant growth in Canada in recent years and signals a bright future! More on that here.
And to add even more excitement, the new Ottawa restaurant is the first free-standing drive-thru version of what we call our NextGen Global 2.0 restaurant design in Canada, which is an evolution of our Smart 2.0 building. This state-of-the-art design is the result of years of listening and learning to what our customers, team members and franchisees want in a Wendy's experience and delivering on it.
"I'm so excited to see this next generation of restaurant come to life, which represents a lot of hard work from so many talented members of the design and construction team at Wendy's," said Steven Derwoed, Wendy's Vice President, Global Design and Construction. "Compared to our existing restaurant model, this building is simpler to build and costs less, while still projecting a strong, graphic street presence that helps it stand out from its neighbors. We've also crafted a host of optional upgrades that can be added on to make the restaurant experience even more appealing."
What Does it Look Like?
Think smaller overall size and – this is cool – an exterior pick-up window that serves two functions.  One side is for drive-thru customers and the other is a walk-up window for the delivery drivers who fetch your Wendy's order. The goal is to decrease congestion by taking the delivery pick-up component out of the restaurant.  The outcome allows us to put our hot and crispy fries and hot and juicy hamburgers in everyone's hands faster.
Inside the restaurant, diners will notice a more efficient ordering flow, plus modern finishes, lighting and artwork. Our NextGen Global 2.0 model also uses the latest, highest efficiency HVAC system to utilize significantly more fresh air from outside with much less reliance on recirculated air.
Customers told us that they want to see our team members freshly prepare their orders without showing all the back-of-house activity. We acted on that, and the NextGen Global 2.0 design includes separation between the front of house and back of house while a large pickup window still allows customers to see that food is being made to order.    
So, What's Next with NextGen 2.0?
For starters, we've made the restaurant format the global brand standard going forward. Our goal: expand our footprint across the globe with this new design.
We actually opened our first NextGen Global 2.0 restaurants in the UK, but those were what we call "inline" builds, meaning a part of another building. The Ottawa restaurant is free-standing and includes a drive-thru, therefore, the first of its kind in Canada.
The cool thing about this restaurant design (in addition to everything we mentioned above) is that it is adaptable to a range of locations and applications – urban retail locations, food courts, drive-thru only locations. Even shipping containers.
Next Up for NextGen 2.0 in Canada?
We're building a similar restaurant in Parksville, Vancouver Island and a drive-thru and walk-up-only model in Trenton, Ontario. There will be more to follow, so stay tuned!
On a related note, Wendy's is actively recruiting new franchisees across Canada. We're looking for Wendy's kind of people – people who are passionate about serving freshly prepared, craveable food and providing exceptional customer service.
For more information on joining the Wendy's family and becoming a Wendy's franchisee, contact the Wendy's franchise recruitment team at wendys.franchising@wendys.com. 
When you join the Wendy's family in Canada, you're partnering with an iconic brand that has been a proud member of the Canadian community for more than 40 years.