Wendy's President and CEO 2022 End of Year Letter
Todd Penegor reflects on 2022 and Wendy's successes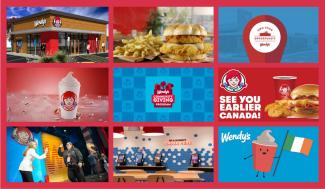 Wendy's Fans,
What a year it's been! We grew to become the number two brand in the U.S. QSR burger category, and through it all, we remained true to our collective vision of becoming the world's most thriving and beloved restaurant brand. We delivered high‐quality food, compelling value and convenience, building more loyalty with our fans and making the Wendy's® brand more relevant than ever.
I am very proud of the Wendy's System for all that we accomplished together against our strategic growth plan. We continue to demonstrate the brand's ability to resonate with our customers and we're seeing year-over-year growth as a result.
Let's look back at some up our proudest moments of 2022:
Big in Breakfast
We said we'd go big in breakfast in 2022, and we delivered.
In the first half of the year, Canadians woke up to a better breakfast experience when we launched nationwide. With breakfast now being served in Canada, Wendy's now offers breakfast in 95% of our restaurants across the world, disrupting morning routines and creating new fans everywhere.
In the U.S., we added a sweet treat to our savory breakfast lineup with the launch of our Homestyle French Toast Sticks giving customers a flavorful and nostalgic way to start the morning. The continued excitement for our French Toast Sticks and various value offerings throughout the year, like our Buck Biscuit promotion, drove momentum in the U.S., and kept morning fans coming back time and time again.   
Breakfast remains a significant focus area for us, and we can't wait for Wendy's fans to see what we serve up next year in markets across the globe.
Digital Momentum
Meeting our customers where they are and making sure we have the technology infrastructure in place to deliver a fast, frictionless experience has never been more important. We continued to optimize our mobile app to create a seamless experience for our customers and offered exclusive in-app value offerings at key times throughout the year, including our exciting March Madness® deals, which proved to be a slam dunk with our fans.
In the U.K., we deployed kiosks in all restaurants, including the first-ever cashless Wendy's restaurant. Since implementation, kiosks are now the primary way customers in the U.K. are placing their orders at Wendy's, enhancing speed of service, convenience and order accuracy.
Our U.S. Rewards loyalty program grew total members by approximately 30% this year, and in Canada, we announced the launch of Wendy's Rewards™, allowing customers the opportunity to earn points and unlock rewards for their favorite mouth-watering menu items.
Global Growth Mindset
This year, we accelerated our growth and moved us one step closer to our goal of 8,000 – 8,500 restaurants by 2025. We achieved this growth through various programs including our Own Your Opportunity program that launched earlier this year to open doors for more women and people of color to become franchisees.
On the international stage, we announced plans to grow our footprint in Mexico with the intent to add more franchisees to the Wendy's family in a market that we think has great potential for the brand. In the U.K., we now have more than 10 Company restaurants open and our first traditional restaurant owned and operated by a franchisee opened in Sheffield earlier this month.
As the brand grows and evolves, so should the design and functionality of our restaurants. We unveiled our innovative new global restaurant design standard, Global Next Gen, which will enhance the customer, crew and digital experience tremendously. This new restaurant design will include a dedicated delivery pick-up window and parking, dedicated mobile order pick-up and a more efficient kitchen design that supports faster order fulfillment and culinary innovation.
This only scratches the surface of what we've accomplished this year to get more square burgers in the hands of more Wendy's fans across the world. I encourage you to read more about our year in development.
Fast Food Done Right – Culinary Innovation
Our Culinary Team is the best in the business, and I'm consistently amazed by their ability to develop craveable and unique products for our customers. When I think about one of our most significant innovations this year, it's Frosty®, hands down. The team hit it out of the park with the launch of our seasonal Strawberry Frosty this summer and the Peppermint Frosty, which landed just in time for the holidays. We also debuted new items on our Made to Crave platform including the Hot Honey Chicken Sandwich, Italian Mozzarella Chicken Sandwich and our new Garlic Fries made with Wendy's natural-cut, Hot & Crispy Fresh Fries coated in a savory garlic herb sauce.
Speaking of Made to Crave, we brought back the Pretzel Bacon Pub Cheeseburger, a fan-favorite, limited-time item. In the U.S., we made our iconic $5 Biggie™ Bag offering even better by giving customers the option to choose our Jr. Bacon Cheeseburger, Double Stack™, or classic Crispy Chicken BLT in addition to 4-piece nuggets, small fries and a small drink – all at an incredible value. In Canada, we headlined our Baconator® lineup with the new Blazin Baconator bringing a spicy kick to the menu.
These dynamic additions to our menu lived up to the hype and kept fans coming back for more.
Good Done Right – Celebrating Our People & Communities
Our Corporate Social Responsibility platform, Good Done Right, is the backbone of our business. In April, we released our 2021 Corporate Social Responsibility Report highlighting key progress made against our goals within our Food, People, and Footprint focus areas. I encourage you to read more about our CSR achievements from this year.
People are at the heart of our business, and this year, we took the opportunity to celebrate the Wendy's family in a big way. This September, our entire System got together in-person for the first time in two years for our Franchise Convention in Las Vegas. There, we recognized our Top 200 General Managers for their success in driving same restaurant sales, customer count growth and overall customer satisfaction. We also inducted Raul Dominguez and Jorge Colon Gerena into the Wendy's Hall of Fame, two long-time franchisees and incredible leaders in our System. To close out Convention, we gathered for a night to support the Dave Thomas Foundation for Adoption® (DTFA) and their mission to help find permanent, loving homes for children in foster care.
Year-round our System supported the DTFA through in-restaurant campaigns like our Boo! Books™ and Frosty Key Tag fundraisers where a significant portion of the proceeds benefits the organization. We also held events like the Sugardale® Hot Dog Lunch hosted at the Restaurant Support Center, the Frosty 5K Run for Adoption and our Company payroll deduction campaign, which took place during our annual Founder's Week in November – all benefitting the DTFA. This year, I'm extremely proud to share that we sold more than 8.2 million Boo! Books™, which is a significant increase from last year's 5.8 million, all benefitting the DTFA.
In addition to this support, Wendy's made charitable donations to 16 organizations across the U.S. and Canada through our Community Giving Program. We also remain committed to supporting organizations specifically focused on social justice, youth and education in the Black community. In partnership with the Thurgood Marshall College Fund®, Wendy's will help provide students from Historically Black Colleges and Universities with scholarships and opportunities for professional development, training, and career management.
Looking back at these milestones our System accomplished this year, I'm humbled and honored to lead this organization. We don't take for granted the fact that our fans have a choice, and we are committed to doing the right thing in all areas of our business to ensure customers feel good about choosing Wendy's.
Our continued growth and success would not be possible without the partnership of our franchisees, suppliers, employees and restaurant teams. I'm also grateful for the support of our Board of Directors and shareholders. Our collaboration is what makes the Wendy's family truly special, and I'm grateful for each of you.
On behalf of the Wendy's family, may you have a happy and healthy holiday season and all the best in 2023.
Take care,