How Wendy's is Approaching Diversity, Equity and Inclusion in 2023
Q&A With Wendy's Chief Diversity, Equity and Inclusion Officer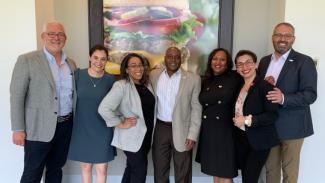 Dr. Beverly Stallings-Johnson has served as Wendy's® Chief Diversity, Equity and Inclusion Officer since March 2021. She sets the vision and strategy for DE&I at Wendy's and leads efforts to create an inclusive culture for the Company's employees, franchisees and suppliers. We asked her recently to give us a snapshot of her experience and accomplishments thus far at Wendy's, and what's on tap for 2023. 
You joined Wendy's in March 2021 as Chief Diversity, Equity & Inclusion Officer, but this isn't your first role leading this important work. Where did you begin your DE&I journey? 
My journey began as a college student at the University of Richmond in Virginia, a deep South campus where I was among the first Black women to attend. As you know, Richmond served as the capital of the Confederacy, and while so much had changed by the time I attended college, I was still one of only ten Black women enrolled on a campus of 4,000 students.   
As I navigated my career in corporate America, I knew my race and gender would affect my work experience, but I felt prepared. It wasn't my first time navigating a primarily non-diverse space. Throughout my career it was clear that women and especially women of color were glaringly underrepresented. And it was worse the higher up in an organization. 
I learned a lot from these experiences. Most importantly, I learned that being the "first" or "only" can be both empowering and scary. I also learned the importance of finding and being a champion and ally and welcoming of diverse mentorships that may look different from me, seeking to understand differences and always looking to build awareness about people and cultures different from my own. And all of this has led to my passion for helping cultivate strategically aligned relationships that can remove barriers and build opportunities, accelerating equity in the circles in which I navigate and beyond. 
What progress has Wendy's made in creating a culture and System that is inclusive and diverse? 
As we prepare our 2022 Corporate Social Responsibility (CSR) report, I'm excited to say that we are making meaningful progress against all of our focus areas, including increasing the diversity of representation among management and leadership at the Company, and attracting new, diverse franchisees into our System.   
A year ago, we launched a new franchise recruitment initiative, Own Your Opportunity, to create franchise ownership pathways for underrepresented populations, specifically among women and people of color. Thanks to Own Your Opportunity spearheading Wendy's franchisee 2022 recruitment efforts, the brand has nearly doubled new franchisees entering the Wendy's System compared to the prior year. The increase represents approximately 10% of Wendy's total franchise base. 
I recognize that the global economy, and our industry, is ever changing. By the end of 2030, we will have a larger employee base supporting a larger, more global business. To support this, we introduced a new training program for Company leaders and hiring managers focused on how to select talent, which is part of a broader talent management initiative called Talent Done Right. This new initiative is focused on the importance of: (1) Attracting & Retaining Talent; (2) Developing & Growing Talent; and (3) Engaging and Retaining Talent, while simultaneously attracting diverse talent and mitigating unconscious bias during the selection process. 
To ensure our employees continue to feel seen and heard, we formally launched a new Employee Resource Group (ERG) focused on supporting caretakers for children, siblings, parents, partners and/or other family members: GiveCare. GiveCare joins our six other ERGs focused on women, Black employees, young professionals, military veterans, our LGBTQ community and cultural diversity.  
These are just a few highlights of the progress we've made to date, which you'll see detailed in our upcoming 2022 CSR report.  
Coming up on your second anniversary with Wendy's, what Diversity, Equity and Inclusion accomplishments are you most proud of?  
I am most proud of the fact that in a recent employee feedback survey, 94% of Company employees in both our restaurant and support teams agreed and strongly agreed with the statement, "diversity is valued at Wendy's." We also asked employees to list three to five words that describe our company's culture today. The word employees most frequently used was "inclusive."  
I am also pleased with our results in the 2022 McKinsey & Company's Women in the Workplace report, which analyzes the representation of women and women of color in the corporate space. I'm proud to say that for the first time, Wendy's offers 100% of the detailed DE&I actions recommended by McKinsey vs. our score of only 38% in 2018! 
To me, this feedback means we are doing the right thing, which is one of our Wendy's Values. But it also means, from an organizational perspective, that we are doing what's necessary to build a strong workplace for the future. 
What are some key DE&I initiatives at Wendy's in 2023?  
The great news is that we have a solid, multi-year strategy in place focused on education, training, recruitment, hiring, talent, development and, most importantly, retention that we will continue to drive our DE&I efforts in 2023 and beyond.  
Our ERGs will continue to play an important role in creating opportunities for learning, inclusion, career growth and leadership development for our Company employees. A timely example from our Black Employee Resource Group (WeBERG) during Black History Month is that we'll share a series of videos with our internal teams throughout February about the meaning of community, featuring a cross-section of Wendy's employees with different identities.  
In collaboration with our Marketing team, we'll also continue leveraging our relationships with external partners to support our efforts. We worked with Mood Media to create custom playlists celebrating African American artists that are an option for our U.S. Company restaurants during the month of February. These playlists are available for participating franchise locations, as well. We also announced our partnership with the Central Intercollegiate Athletic Association (CIAA) kicking off this month, the first and longest running African American athletic conference in the U.S., and the most recognized in Division II to boot. 
Why has Wendy's decided to partner with the Central Intercollegiate Athletic Association (CIAA) and how does this align with your DE&I focus areas and the Wendy's brand?   
We love what our fans love, and our fans love college basketball. We are proud to show up and sponsor the 2023 Central Intercollegiate Athletic Association (CIAA) tournament and cheer on all the teams in the CIAA. The CIAA Men's and Women's basketball tournament promises to be an action-packed week of hoops, performances and more and we can't wait to experience it alongside our fans.  
At Wendy's, our mission is to become the most thriving and beloved restaurant brand in the world. We rely on the diverse perspectives of our people at all levels to make us stronger as an organization. Progress toward our mission is only possible when "where and how" we show up – our people, our franchisees and our partnerships – reflect the diversity of our customers.