Wendy's to Donate $500k to Support Black Communities
We Listened. Learn about the details around Wendy's Donation to Support Black Communities.
Read time: 1 min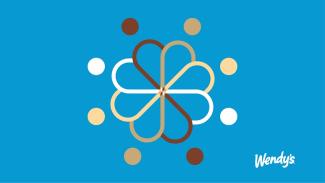 These are difficult days in our country. Across the Wendy's® family, we've begun critical conversations on how we can improve racial equality within our own walls to provide a safe and thriving environment. On June 1, Wendy's President & CEO Todd Penegor shared this blog condemning the tragic killing of George Floyd and the long line of injustices that continue to be directed at Black people.
We've used this past week to self-reflect, get educated and listen to the voices of the Black community within Wendy's. We hosted an employee town hall where members of the community shared the raw and real experiences that have shaped them. It was an education for all surrounding the daily challenges our Black colleagues face. This moving conversation unearthed actions to promote allyship within the Wendy's family. We've begun to shape a blueprint for how we move forward, which includes continuing our Diversity and Inclusion journey in partnership with our Cultural Diversity Network. We're also now engaging with a newly-formed company advisory group, consisting of Black leaders and others in our organization, to identify and prioritize the right actions specific to the Black community to help our employees, our organization and our communities progress forward. We also leveraged our voice on Twitter to clearly state Wendy's firm commitments including a pledge to donate at least $500,000 to support social justice, the youth and education in the Black community, starting with the Thurgood Marshall College Fund®.
PARTNERS
In 2019, Wendy's and our Cultural Diversity employee network began support of the Thurgood Marshall College Fund which provides students from Historically Black Colleges and Universities with opportunities for professional development, training and career management. We're honored to continue our relationship and significantly increase our support right now.
We will direct additional resources to educational, youth-based and social justice causes, and we're engaging with our employee advisors and others in our community to determine where we can make a difference. We'll look forward to featuring those partnerships on The Square Deal as well.
RECENT NEWS
In addition to our monetary commitment, we pledged to use our voice on Twitter to amplify the voices of those in the Black community who speak out in support of racial equality to move our country to a place that fosters inclusivity.
We also confirmed on Twitter on Wednesday night that neither The Wendy's Company nor our President & CEO Todd Penegor have donated to presidential campaigns, no matter the candidate. We corrected misinformation on social media and in news outlets.
EMPLOYEE SAFETY AND WELL-BEING
For months now, our focus on employee safety and well-being has been heightened due to the impacts of COVID-19. And this week, we saw additional disruptions to our restaurant teams as demonstrations and curfews have occurred.
There's nothing more important to us than the safety and well-being of our teams, so we worked quickly to ensure we had additional protections in place.
We first ensured that any Company team members who lost the opportunity to work because their restaurant was closed early or temporarily would be compensated. We're also leveraging our relief fund, WeCare, to support restaurant team members throughout our system who suffer financial harm, such as lost wages, due to short-term restaurant closures or disruptions. WeCare is also available for those affected by natural disasters or COVID-19.
WENDY'S PATH FORWARD
It is heartbreaking to see the devastation across the U.S. and we're hopeful we can soon come to a place of understanding that moves us in a direction that encourages peaceful, proactive and empowering conversations and actions that shape policies promoting racial equality and social justice.
Wendy's is committed to live our Company's values to Do the Right Thing and to Treat People with Respect, both in our words and our actions. These are not hollow promises. We are beginning to chart a bold journey for Wendy's to play a part in ending systemic racism in America. We cannot achieve change on our own, but we intend to be part of the solution. We still have a long way to go on this journey and we know we can and must be better. But the journey has begun.
For our response to the tragic death of Rayshard Brooks and other events that occurred in Atlanta, please head here.