Why We Support Foster Care Adoption
Read time: 1 min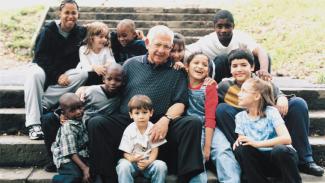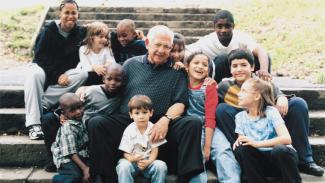 In celebration of National Foster Care Month, we wanted to shine a light on some of the incredible accomplishments the Dave Thomas Foundation for Adoption (DTFA) has recently achieved, while also remembering why we support foster care adoption and the Wendy's Wonderful Kids (WWK) program.
With his childhood as inspiration, Wendy's® founder Dave Thomas made adoption the signature cause of The Wendy's Company. And in 1992, he gave the cause a national platform by founding the Dave Thomas Foundation for Adoption, a 501(c)(3) public charity. The Foundation is an independent organization that maintains a very strong partnership with the Wendy's system of restaurants and franchisees, and its singular mission is to find forever families for children in foster care.
In 2018, the DTFA added Colorado and Utah to their list of scaling states. When we say "scaling states", it indicates the Foundation's capacity to achieve full scale Wendy's Wonderful Kids programming in multiple states, while continuing to lay the foundation for nationwide growth. This unique child-focused recruitment model allows recruiters work with smaller caseloads of children, ensuring they have the time and resources to give each child as much attention as he or she deserves. With these new additions, the Foundation now has eight scaling states, as well as Ontario, and continues to build momentum towards its 12-year business goal to scale the WWK program in all 50 states.
But with all this forward progress, there are still nearly 155,000 children in the U.S. and Canada waiting to be adopted from foster care. We can't forget to look back on why helping these children are so important to the Wendy's family. Together, we believe that Unadoptable is Unacceptable.
So, let's talk about adoption, and specifically foster care adoption. While most of us know someone who has been adopted or who has built their family through adoption, the issue of foster care adoption is not well understood in our society. Many people aren't even aware that this issue exists, but today in the United States, approximately 400,000 children are living in the foster care system. And of these children, 123,000 are eligible to be adopted.
If you've ever been to Turner Field in Atlanta, Georgia – the stadium has the capacity to fit a little more than 50,000 people. If you would fill a little over two of those stadiums, that's how many children in foster care have no legal ties to their biological parents and have no family members that are suitable to care for them. They are wards of the state and they are simply waiting for a family to love them.
Imagine what that's like for a moment. Think of your home. Perhaps it's the place you grew up, or where you built your family, or simply a safe place where you rest and find comfort.
For a child in foster care, home is an elusive concept. Children "in the system" often move frequently, shuttled from foster home to group home and back again with all their belongings gathered in a plastic garbage bag.
The Story Behind the Stigma
Sadly, more than 20,000 young adults age out of the foster system each year without ever finding a family to call their own.
I often think about how different my own life would be if I had been forced to navigate from childhood, through high school and into adulthood without a family to call on for advice, support and comfort. It's no wonder that children who "age out" of foster care face incredibly difficult challenges for the rest of their lives, and the statistics on their education, homelessness, and substance abuse patterns as adults are alarming.
More disturbing is that public attitudes about children in foster care are often unkind and unfair. Half of all Americans believe that children arrive in foster care because of something they did, which creates a stigma of children in foster care as "bad kids."
In fact, foster care results when a child is abused, neglected or mistreated such that they cannot safely remain with their families. According to substantiated reports from the Children's Bureau of the U.S. Department of Health and Human Services, approximately 676,000 children were the subjects of at least one abuse and/or neglect report throughout 2018 alone.  
At a time in our history when no one was advocating for these children, Dave Thomas took action and said, "These children are not someone else's responsibility. They are our responsibility." Wendy's support of adoption awareness programs reached new heights when the U.S. Postal Service released a postage stamp celebrating adoption in 2000.
And since 1992, we've remained committed to Dave's mission.
The Dave Thomas Foundation for Adoption
Yes, we sell the best fresh, never frozen hamburgers* and salads, and by doing that, we help fulfill our Founder's purpose and a promise that we made to him to speak up for the children who need us most, just like he did.
We support The Dave Thomas Foundation for Adoption as our charity of choice and are continually looking for new ways to raise funds and awareness for the cause. Some of the ways we do that are through a variety of fundraisers we host in our restaurants throughout the year. From the crowd-favorite Frosty Key Tag to Boo! Books, these in-store efforts are just one of the many ways try to raise awareness and funds.
Fundraising is critically important, but ultimately, money alone cannot help these children. For that, people must be willing to open their homes and their hearts to a child who desperately needs and deserves to call someone Mom or Dad.
The Wendy's Wonderful Kids Model
The good news is that there is a model that works. The Dave Thomas Foundation for Adoption has a proven, child-focused model that provides grants to adoption agencies to hire dedicated adoption professionals who focus exclusively on the children who are the hardest to adopt – older children, sibling groups, and children with special needs. The child-focused model means they try to find a family to fit the child, rather than finding a child to fit a particular family. And to date, more than 8,500 children have found their forever families through this approach.
Yes, that is a number we can celebrate, but there's still so much to do, and we hope you'll visit the Dave Thomas Foundation for Adoption to learn more.
We'll speak often about this topic, because it's near and dear to our hearts. And we know that these children deserve more.
Do you have an adoption story to share? If so, tweet us @wendys to get the conversation started.
Talk to you soon!
Liliana
* Fresh beef available in the contiguous U.S., Alaska, and Canada.