Wendy's Team Members Lend Helping Hands Around the World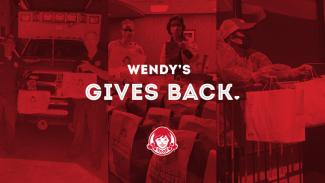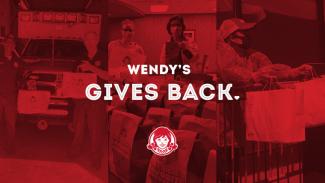 At Wendy's®, we're lucky to come across stories from our restaurants, employees and franchisees from around the world that we can proudly share as a bit of "feel good" news. They're the stories that highlight the small acts of kindness that make you remember the good in the world, and those that remind you we always strive to have your back and do the right thing. You may recall some of the more recent acts of kindness we highlighted here.
Right now, doing the right thing remains especially important, and we continue to be proud of Wendy's team members and franchisees for showing up for those in need. From across the globe to our own back yard, we hope the following stories will put a smile on your face at a time when we all could use some extra love.
Food for the Soul
With unemployment rising and food banks struggling to meet the demand, we are proud to recognize franchisee Mike Iezzi (Wendgusta, LLC). Mike made an $80,000 donation to the Golden Harvest Food Bank in Augusta, Georgia that will help provide 240,000 meals to those in need.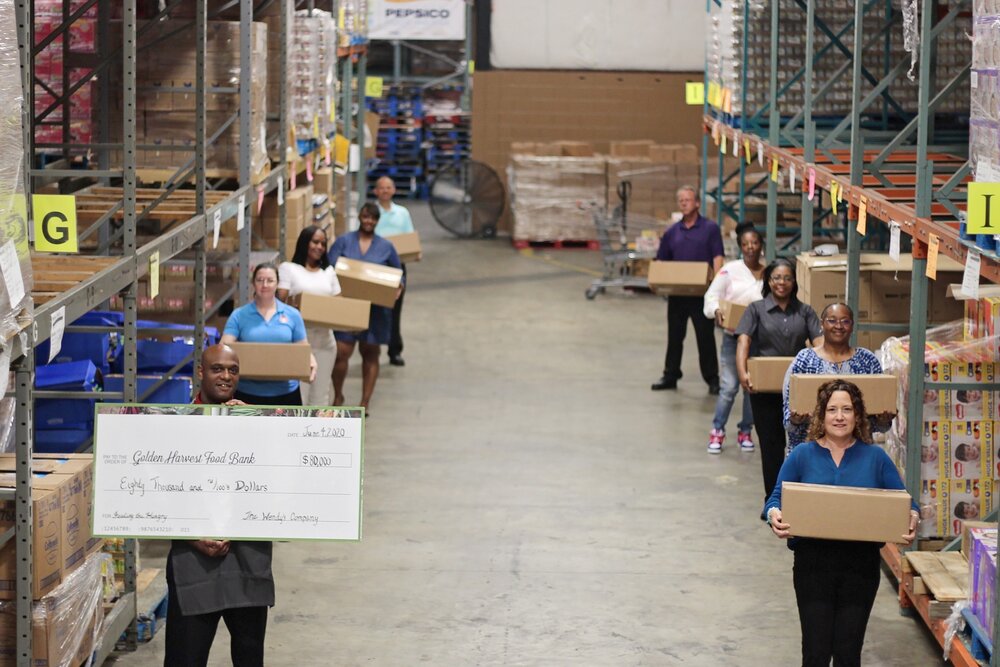 Employees at meat processing facilities have also been on the frontlines, helping to keep food on our tables and in our restaurants. Wendy's franchise organization Cotti Foods owns five restaurants in the Amarillo, Texas area, which has been a recent hotspot for COVID-19 cases, and is also the location of a major Tyson Foods meatpacking plant. The Cotti Foods team felt it was imperative do something big for these employees who mean so much to the Wendy's family, so they provided more than 4,000 Tyson employees with four courtesy cards to redeem for Wendy's combo meals or entrée salads.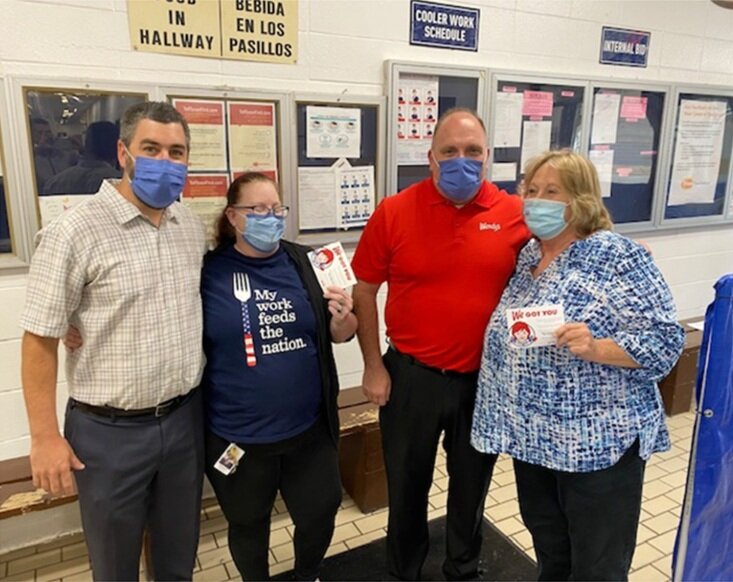 Between these two efforts alone, that's more than $230,000 in value. But the intrinsic value of giving at this level is something you can't quantify.
Unique and New U.S. Stories
At Wendy's, food is our love language. So it's no surprise that our restaurant team members and franchisees have been leveraging food as a way to spread love throughout the community during this time.  
To celebrate healthcare workers, the Wendy's family has been busy preparing and delivering warm, delicious meals to members of the community. Mike and Tony Allegro's restaurant teams at franchise organization All Star Management made and donated more than 70 pots of our famous chili for first responders, fire stations and hospitals in Illinois. Not to be outdone, the firefighters had their own fire-alarm fun and delivered the chili in fire trucks and ambulances to make the drop-offs a little extra special.
On the East coast, Meritage Connecticut Area Director, Nassar Bashir, along with acting District Manager Arsal Jaffery, organized their teams and delivered meals to the Connecticut Children's Medical Center.
In the Chicago-area, Wendy's Company District Manager Felicia Walton and her team provided more than 200 free meals to the frontline health care workers at Fairmont Care Nursing Facility.
In Seattle, every Wednesday is Health Care Workers Appreciation Day, and Wendy's restaurant managers from franchise organization WTC Ventures deliver lunch to employees from Kaiser Permanente who are staffing local drive-thru COVID-19 testing centers.
Recently, tornadoes ripped through Seneca, South Carolina, which created a new set of challenges for the community. Thousands were left without power and the community needed a helping hand. Thankfully, the team members from Wendy's franchise organization First Sun Management Company were ready and willing to jump in. Wendy's teams from Clemson and Seneca, District Manager Brandy Shepard, her son Kaden and Director of Marketing Marjorie Perez, were able to deliver Wendy's Breakfast to more than 200 volunteers who were assisting with clean-up and rebuilding efforts. The team also provided sandwich coupons for first responders, volunteers and residents affected by the devastation of the tornado.
Continued Goodwill Around the Globe
In a recent post, we shared efforts across Latin America and India, and we're proud to see countries continue to come together. Wendy's franchisees in the Asia-Pacific region are going above and beyond to donate food and resources to frontline workers and members of the community. We are truly uplifted by the passion displayed by our restaurant teams and proud to see our Wendy's values in action.
Guam
Wendy's Guam has been serving their local community with great quality food. In partnership with the local Lions Club International District 204, the team donated and delivered Wendy's meals to feed healthcare professionals at the American Medical Center (AMC) in Guam. They also provided the Guam National Guard with free meals in appreciation of their service. Most recently, the Wendy's Guam team partnered with Mr. Patrick Lujan and the Guam Sports Network to donate fresh, craveable Wendy's breakfast meals to members of the community.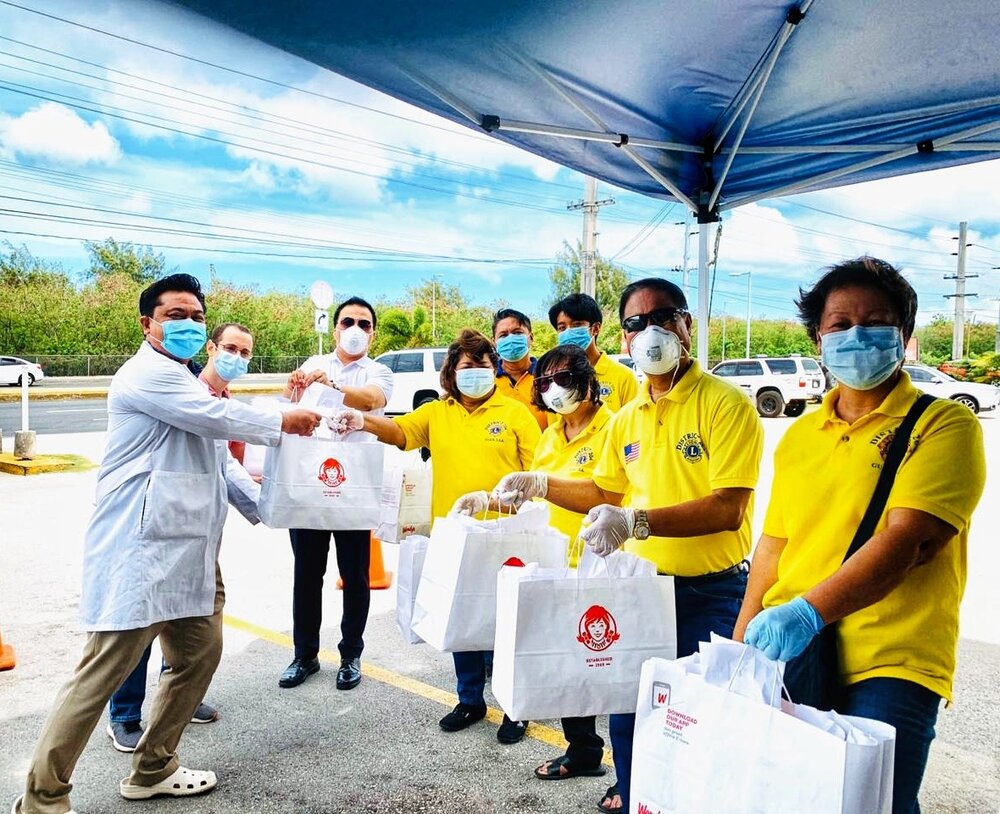 Philippines
Franchisee organization Eight-8-Ate has been delivering meals to frontline healthcare workers at the Philippine General Hospital. The teams also provided meals to the Philippine National Red Cross to recognize and support the volunteers at the frontlines of the local COVID-19 relief efforts. Joey Garcia, President of Eight-8-Ate, said in a recent Business Mirror article featuring their community work, "The past few weeks have seen various food service groups and quick service restaurants join hands to ensure that those put in harm's way are properly fed; and the mandate to all Wendy's stores is to provide as best as we can to those nearest their areas of service."
Georgia
Samson Pkhakadze, Wendy's franchise owner in the Republic of Georgia, led an active community initiative in partnership with the mayor of Georgia's capital city, Tbilisi, to encourage local businesses to donate food and basic necessities to the city's elderly residents and those struggling in the midst of the COVID-19 crisis.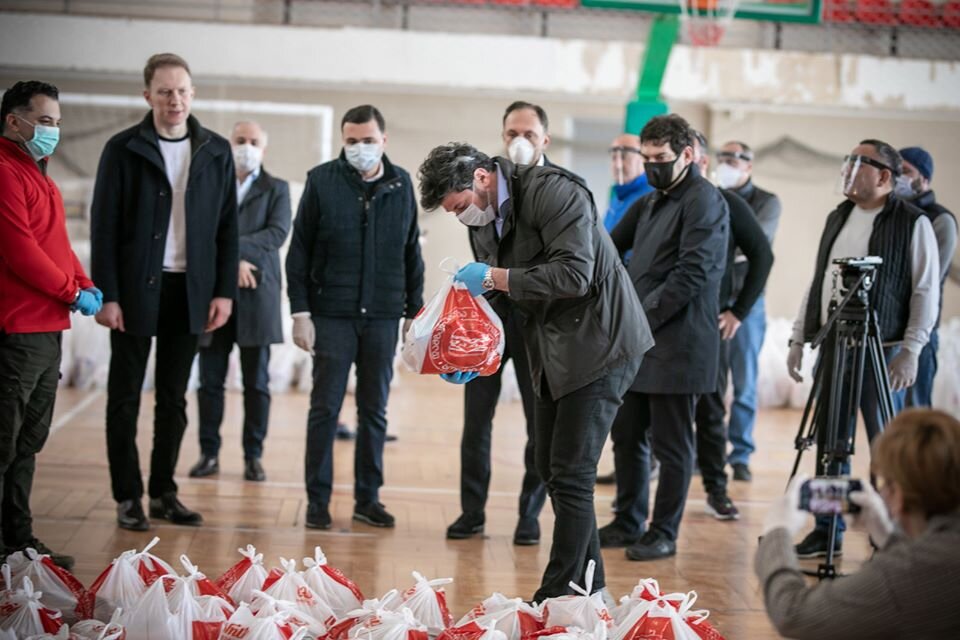 India
Wendy's India has been an integral part of COVID-19 relief efforts in the region. The Wendy's restaurant in south Delhi's Kalkaji area is being used to stock and distribute essential goods, and team members are offering their personal vehicles to deliver perishable goods and other essential items to the general public in need.
These efforts were featured in a local news story, with a shout-out to Wendy's for demonstrating acts of kindness during these times of struggle. Additionally, the teams in India have been on the frontlines to serve high-risk populations and raised significant funds to benefit more than 6,000 families. They surpassed their initial fundraising goal with the help of a powerful video posted by Franchise Owner and CEO, Jasper Reid on YouTube demonstrating the great need.
A heartfelt thanks to the restaurant teams and leaders behind these local initiatives: Jasper Reid and his wife, Megan, along with Head of Operations, Hemant Gupta, and Head of Finance, Mukesh Kumar.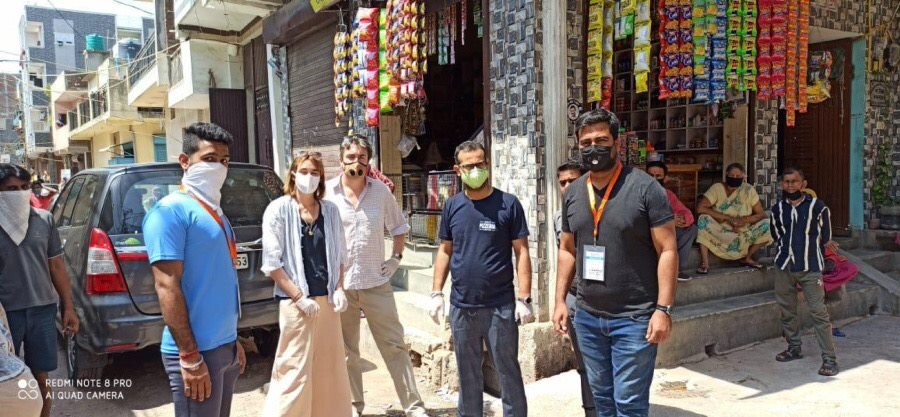 On behalf of the entire Wendy's family, a sincere thank you to all healthcare workers and first responders, as well as the many Wendy's team members working each day to provide food as fuel to those who are on the frontlines.
If you know someone who works at Wendy's that you want to recognize, please feel free to tweet us @Wendys!