Celebrating National Adoption Month with a Story
One Family's Story from Foster Care to Forever Family
Read time: 1 min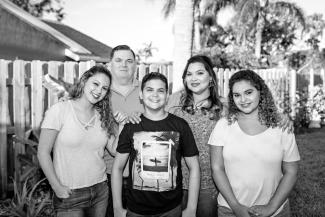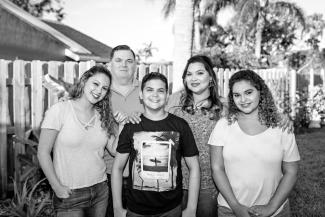 Today is November 1, which marks the beginning of National Adoption Month. We'll share several adoption-related blogs on The Square Deal this month in support of the Dave Thomas Foundation for Adoption, which was founded in 1992 by Wendy's founder, Dave Thomas. The DTFA has one goal: find a permanent, loving home for every child waiting in the foster care system. For more information about how Wendy's supports this mission, visit wendys.com/adoption.
Throughout my five-year career at Wendy's®, I've heard more stories about successful adoptions than I can count thanks to the tireless efforts of the Dave Thomas Foundation for Adoption® and Wendy's Wonderful Kids® recruiters. And throughout this time, our blog has served as a special home for these stories. Most recently, we've shared heartwarming stories about the Patterson family, the Maces, and Dalton and Dawson Brydges.
But this past September, when our Wendy's family came together for our annual Convention, I met Maci Kean: a 20-year-old funny, endearing and determined young lady from Florida who was adopted when she was 17, just six weeks before she would have aged out of the foster care system. Maci's story struck a chord with me in a way the other stories hadn't. When I talked to her, I thought about my life when I was 17.
I thought about how my parents were both present for my senior year of high school milestones, threw me a graduation party, bought me a futon, mini-fridge, and other college necessities, and supported every decision I made along the way. I truly couldn't have done it without them.
But Maci didn't have that same support because she was living in a group home – her father overdosed and died when she was two years old, and her mother, who also suffered from addiction, died when she was 10. Maci shared that she lost her hearing at the age of three due to untreated ear infections. When she was younger, she'd take out her hearing aids to deafen her mother's screams as her boyfriend abused her. She never had her own bedroom. Her bed was always the couch and she moved from home to home because her mother couldn't afford to maintain stable housing for Maci and her older brother.
While it was heartbreaking to hear how Maci suffered as a child and as a teenager, there wasn't a dry eye in the house when she told us about how much she loves her adoptive family. With help from a Wendy's Wonderful Kids recruiter, Maci was adopted by the Kean family and now has a mom to support her while she's at school (she's made the Dean's List several times at Florida International University, by the way!), a dad to cook family dinners, and siblings who love her unconditionally. For the first time in her life, Maci is living in a safe and loving environment, and I couldn't be happier that Maci finally has the family that every child deserves.
"I'm busy with the normal life of a normal 20-year-old," she told us. "But I still make time to share my story and advocate for adoption from foster care, especially for teenagers. Without the gift of adoption, none of this would have been possible."
Watch the video below to learn more about Maci and her family.