Wendy's Reflects on 2021 Corporate Responsibility Progress
Chief Corporate Affairs and Sustainability Officer, Liliana Esposito, Shares Our "Good Done Right" CSR Approach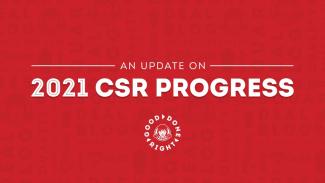 As I reflect on 2021, I am proud of the Wendy's team for all we have accomplished on our ongoing Corporate Responsibility journey. This year was a big one for us, as we demonstrated progress with our Good Done Right platform with the addition of new and ambitious goals, which we shared in our 2020 Corporate Responsibility report released in April. These goals will hold us accountable to our employees, customers, community partners, suppliers, and shareholders, and will further our vision of becoming the world's most thriving and beloved restaurant brand.
Ahead of publishing our next report in spring 2022, we'd like to share some highlights from 2021 across three critical areas of our business – Food, People and Footprint:
Food
- Food Safety Innovation: This year, in partnership with EcoSure®, a division of global hygiene and safety expert Ecolab®, Wendy's completed global Food Safety Assessments (FSAs) to ensure Wendy's restaurant operators around the globe adhere to best-in-class food safety and operational procedures. Also this year in partnership with NSF EyeSuceed™, Wendy's announced a pilot program to test the use of Augmented Reality (AR) smart glasses to drive greater efficiency in food safety and supplier oversight practices and restaurant employee training.
- Animal Care Standards Program Progress: In partnership with our recently expanded Animal Welfare Council, in 2021 Wendy's began implementing the Animal Care Standards Program, which uses an assessment tool designed to help us recognize progressive suppliers, better track farm conditions and animal care and quantify the results. While we've always audited, for the first time through this program we are cataloguing the animal welfare best practices in 17 categories for our protein supply in North America. As of year-end, we have tailored and tested the tool for our beef, pork and chicken supply chains and started evaluating our current suppliers in those areas. In 2022, we will look to expand program implementation to our egg and dairy supply chains.
- 2022 Gestation Stall Goal Progress: In 2012, Wendy's announced a 10-year goal to transition our supply chain for pork (bacon and sausage used by Wendy's restaurants in North America) away from individual sow gestation stalls in favor of open pen/group housing for pregnant sows, which allows them to socialize and exhibit natural behaviors. With the deadline approaching, we have re-affirmed our commitment and shared our progress, which you can view on our website.
People
- People & Ethics Report: Earlier this month, Wendy's published a People & Ethics Report, outlining the ways we stayed connected to our key North America suppliers in 2020 and prioritized safety, health and well-being as part of those relationships. As we look ahead to 2022 and beyond, we remain committed to promoting safe and respectful workplaces across our North American restaurants and supply chain.
- Good Done Right Award: This year, Wendy's recognized Cavendish Farms, one of our French fry suppliers, with the Wendy's Good Done Right Award – an honor that recognizes a supplier making a positive impact within the Wendy's supply chain. Cavendish Farms received top marks for the work it's doing to find innovative solutions for potato waste like converting it into biogas to fuel the company's processing plants as well as into natural fertilizer and providing it to farmers to feed cattle. 
- Diversity, Equity & Inclusion (DE&I): In March, we proudly announced the appointment of Dr. Beverly Stallings-Johnson to the newly created position of Vice President, Chief Diversity, Equity & Inclusion Officer, and this year three Wendy's Company employees received top recognition from the National Diversity Council for leadership in DE&I. Wendy's was also named one of Forbes' World's Top Female-Friendly Companies 2021, and in September, Wendy's joined First Women's Bank, the first women-founded, owned and led commercial bank in the United States, as a Mission Partner, underscoring the Company's continued investment to empowering women.
- Philanthropy: Building on our December 2020 announcement of a new Community Giving Program, we announced in August the continuation of this program, awarding an additional nine organizations across our global footprint with a charitable grant. We also amplified this program by allocating an additional $30,000 in grants for Wendy's six Employee Resource Groups (ERGs) to jumpstart sustainable partnerships with organizations that support each ERG's mission. 
Footprint
- Climate and Energy: This year, Wendy's conducted our first greenhouse gas (GHG) inventory, an important step that informed our climate roadmap. As part of this roadmap, we shared our commitment to benchmark, track and reduce our Scope 1, Scope 2 and Scope 3 GHG emissions and set a science-based target by the end of 2023. Furthermore, we reported 2020 Climate data to CDP, a leading disclosure practice for environmental reporting, for the first time, reinforcing our commitment to transparency throughout our corporate responsibility journey. We are proud to report that we received a B score on our first CDP submission, which will both serve as a benchmark and guidepost for our climate strategy going forward.
- Sustainable Packaging: We are already making progress against the goal we set earlier this year to sustainably source 100 percent of our customer-facing packaging by 2026 and forged new partnerships that will provide more sustainable options and educational information for our customers. Key updates include:
- Improving Cup Recyclability: In October, we announced a collaboration with packaging and plastics industry leaders Berry Global and LyondellBasell to move from a selection of plastic-lined paper cups with limited recyclability to single-substrate, clear plastic drink cups that more consumers will be able to recycle. Based on a mass balance approach, the cups will also use 20% ISCC-certified, recycled plastic across all North America restaurants – a quick-service restaurant industry first - with the potential to increase the amount of recycled plastic used in the future.
- Enhancing Customer Education: Through our new partnership with the How2Recycle® label program, Wendy's restaurants in the U.S. and Canada will educate customers on how to properly dispose of and recycle restaurant packaging. Customers will begin seeing the How2Recycle label on U.S. and Canada packaging starting in 2022.
- Eliminating 'Forever Chemicals' in North America: We are working toward our ambitious packaging goal by collaborating with key partners to avoid known chemicals of concern, including per- and polyfluoroalkyl substances, a group of man-made chemicals commonly called PFAs [1] that don't break down in the environment. We are proud to share that, as of end of 2021, no customer-facing packaging identified as containing PFAs is sourced for our Wendy's North America restaurants.
Corporate responsibility at Wendy's is a team effort, and we are grateful for the role the Wendy's family, including our franchisees, suppliers and industry partners, have played and will continue to play in our progress. We look forward to the coming year and will plan to include more comprehensive updates in our upcoming annual report.
Wishing you, our readers, a healthy and happy holiday season, and more joy for the year to come!

[1] The term PFAs in this article (and in related CSR reports) is used to refer to only per- and polyfluoroalkyls, which are non-polymer substances.