Wendy's Fresh, Never Frozen Beef 101: How We Source and Serve
You've Got Questions. We've Got Answers.
Read time: 1 min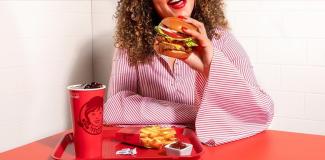 Fresh, Never Frozen Beef 101
Wendy's® is proudly known as the queen of fresh, never frozen beef, serving fresh, never frozen beef on every hamburger, every day*, and we get questions about how exactly we make this happen. 
Here are just a few of those questions answered.
"Why does Wendy's use fresh beef?"
Our founder Dave Thomas's vision and work philosophy is something we follow to this day in every aspect of the Wendy's business. By focusing on quality in our food, in our people and in our overall experience, it's easy to see what makes us different from the other guys. And one of those differentiators was, and has always been, serving fresh, never frozen hamburgers. Quality isn't only found in our hamburgers though – it's in everything we do.
"How does Wendy's not freeze the beef?"
We don't have to freeze the beef for our hamburgers because we work with suppliers located so close to our restaurants that it never has to be frozen. Instead, we transport fresh beef deliveries in refrigerated trucks to Wendy's restaurants between 12,000 and 14,000 times every week.
"Where does Wendy's get their fresh beef from?"
We get it from cattle ranches right here in North America. While some other fast food chains source their beef from as far away as Australia, we stick close to home, so we can ship it fresh to our restaurants. Not only are our beef suppliers close to home, but we've handpicked partners who share the same values when it comes to quality, animal care and safety in both product and work environment. All of our partners who supply our restaurants follow a code of conduct to ensure our guests get the best, and freshest, product possible.

"Is Wendy's beef real?"
Our beef is 100% real.
"Is Wendy's beef really never frozen?"
Yes, Wendy's beef for our hamburgers is really never frozen*. Every hamburger on our menu is made with fresh, never frozen beef. That's something many other hamburger places like McDonald's and Burger King just can't say. We don't believe you should need a decoder ring to figure out whether your hamburger was made with fresh or frozen beef.
"Are Wendy's hamburgers really fresh?"
Yes, Wendy's hamburgers are all really fresh. They start with fresh never frozen beef and then are prepared fresh when you order them. There's nothing that tastes more delicious than a hamburger made with fresh beef served hot off the grill, and that's why we do it that way.
"How long has Wendy's used fresh beef?"
Wendy's has been using fresh beef since we opened our doors on November 15, 1969. It's part of our commitment to quality that founder Dave Thomas engrained into Wendy's culture from day one.
"Why are Wendy's hamburgers square?"
For anyone not familiar with the reason why our iconic burgers are square, it stems from another vision Dave Thomas had for Wendy's. He never believed in cutting corners (literally) and as square burgers hang over the bun, our customers can always see the high-quality of the hamburger before even taking a bite.
* Fresh beef available in the contiguous U.S., Alaska and Canada.