Year-End Reflections: Wendy's 2020 Recap
Read time: 1 min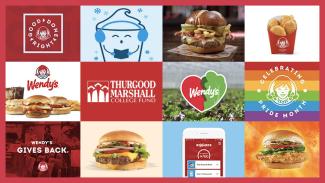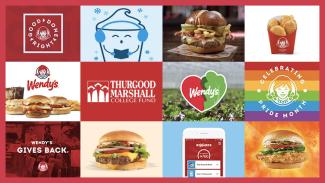 Wendy's Fans,
We're nearing the end of 2020 and what a year it has been. It seems like ages ago that we rang in the new year. So much changed so quickly as the year progressed and we faced challenges that no one could have anticipated. It certainly wasn't the year any of us planned for, but we're ending the year seeing some silver linings and with great hope and optimism about what's to come. I'm especially grateful to our Wendy's® family – employees, franchisees and suppliers – who found new ways of working, supported each other and our customers, and stayed connected as a team.
I'm incredibly proud of how our Wendy's family came together this year, and importantly, worked to provide great restaurant experiences to our fans with the safety and well-being of our customers and employees remaining our top priority. I'm saying so long to 2020 on a high note as I reflect on the ways the Wendy's system made a positive impact and lived our brand purpose of creating joy and opportunity through food, family and community.
With immense gratitude to our restaurant teams, support center employees, franchisees, board of directors, suppliers, and fans, there are some 2020 experiences I will never forget:
- In March 2020, Wendy's introduced breakfast nationwide in the United States – and the response did not disappoint. As part of this launch, our restaurant system created more than 20,000 new jobs across the country.
- The global pandemic forced us to confront new challenges. As a system, we worked together to implement new protocols to support our people and our franchise community. In our Company-owned restaurants, we offered free meals to team members, Emergency Paid Sick Leave, Restaurant Recognition Pay and protected bonuses for general managers.
- With each passing day, we honed our approach to delivering outstanding restaurant experiences in the new environment. As most of our restaurants shifted to a predominantly drive-thru operating model, we also expanded our digital offerings in the U.S. and Canada to provide safe, contactless options like curbside pick-up and delivery.
- We recognized the essential work done by truck drivers who work tirelessly to ensure our restaurants are well stocked with fresh food and other necessities. To support drivers whose large vehicles can't fit in our drive-through lanes, we introduced new walk-up ordering procedures to ensure they could enjoy a high-quality, affordable meal while on the road delivering essential goods to hospitals, restaurants and retailers. As more customers relied on contactless and mobile ordering options, we updated the Wendy's app and announced our Wendy's Rewards™ program in the U.S. to reward our fans for something they're already doing – eating Wendy's.
- We found fun ways to stay connected with the Wendy's family across the globe, like through our virtual Frosty® 5K Run for Adoption and first-ever virtual franchise convention.
- As large meetings and events like our in-person franchise convention needed to be cancelled for safety reasons, we worried about the impact this would have on the Dave Thomas Foundation for Adoption® because of the important role these events play in raising needed funds to find forever families for children in foster care. Determined to find a solution, we took our fundraising virtual instead and raised a record-breaking $2.7 million from our generous Wendy's family.
- We continued to live one of our core values, Do The Right Thing, by compassionately giving time and other resources to those in need throughout the pandemic.
- We pledged our support to advance social justice, youth and education in the Black community by significantly increasing our support of the Thurgood Marshall College Fund® and engaging with new partners, including the Columbus YWCA® and Columbus Urban League®.
- Internally, we established the Wendy's Black Employee Resource Group (WeBERG) in addition to the five other ERGs at Wendy's and implemented diversity, equity and inclusion (DE&I) training and dialogues, along with enhanced resources and tools.
- The Company also allocated $100,000 to be directed by our employees. Through our new community-based giving program, Wendy's employees could apply for grants on behalf of local charitable organizations in their communities throughout our global restaurant footprint. I look forward to our teams partnering with these worthy organizations to help carry out their vision for social justice and equity.
- While navigating the changing world around us, we continued to innovate what we do best: make great-tasting food that our fans love. We rolled out the ultimate in craveability – the Pretzel Bacon Pub Cheeseburger – and revisited our menu mainstays, including the new Classic Chicken Sandwich, making it crispier and juicer.
- We spread some joy through feel-good offers like GroupNug®.
- We also became the first national quick serve brand in Canada to exclusively serve greenhouse-grown lettuce in every restaurant across the country.  
- Our system continued to grow, creating additional job opportunities and contributing to innovation around the world. We also introduced new, non-traditional formats like dark kitchens and drive-thru only container restaurants.
- We pivoted virtually all of our restaurant support work to a virtual model, practically overnight. Our Technology team made virtual meetings an essential avenue for collaboration and engagement. We got nimble and creative, adapting manual, in-person tasks like customer care support, financial closings and new product development to virtual formats. We even turned our support center parking lot into a makeshift "drive-thru" complete with a Frosty Cart to deliver employee appreciation gifts to our support team during our annual Founder's Week.
- Our suppliers and distributors are valued partners and what we do would not be possible without them. Thanks to years of work building strong, lasting supplier relationships, we were able to successfully pivot our interactions to virtual formats. We conducted facility evaluations remotely and brought new products to market using virtual collaboration tools and data between suppliers and our culinary and quality assurance teams.
- In an environment where a trip to Wendy's might be the only trip out of the house that a customer made that day, knew that reassuring customers they were visiting a safe, clean and health-focused restaurant was critical. We continue to reinforce all the necessary training and procedures that are essential for great restaurant operations. And we expanded our relationship with global hygiene and safety expert Ecolab®, which has long provided the essential cleaning materials and systems for our restaurants. Now their EcoSure® division is helping us build on our 50 years of experience in keeping our facilities in great shape to substantially increase the frequency of our global facility evaluations. EcoSure's sophisticated public health technology and best-in-class safety benchmarking helps us raise our game even further.
- Last but certainly not least, we placed an increasing emphasis on our corporate social responsibility (CSR) work, what we call Good Done Right. On the heels of our 2019 CSR report published this year, we formalized our approach to Environmental, Social and Governance issues – in part by conducting our first materiality assessment. This assessment helped us identify what topics are most material to our business and offer the greatest opportunity for Wendy's to make a positive impact. We're using these findings to enhance existing goals and to create new ones, which we'll share as part of our 2020 CSR report that we will publish in the spring. When we share this new set of goals, we'll also share the metrics we will use to track progress against them. These will be based on established ESG reporting frameworks to hold us accountable on our journey to achieving them.
As I reflect back on these accomplishments, and the countless other items that I could have included, I am filled with great pride. Pride in our people, for what the Wendy's brand stands for, and for what I know we can accomplish together in the future. There is simply no brand quite like Wendy's, and I am honored and privileged to be able to work alongside our team of employees, franchisees and suppliers each and every day.
No matter what 2021 brings, I have great confidence that we have the best system in the industry, and that together we will thrive.
On behalf of the entire Wendy's family, I wish you the very best this holiday season and in the new year.
Take care,
Todd