From Wendy's President & CEO: 2021 Wendy's Recap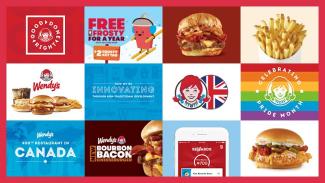 Wendy's Fans,
As this year comes to a close, there is much to reflect on and many reasons to be thankful. Like last year, 2021 brought changes and unexpected challenges. By believing in our vision and following our brand values as a guidepost, we remained optimistic and together, we achieved several significant milestones throughout our global restaurant footprint.
Before we step into the New Year, I want to take a moment to thank the Wendy's® family – restaurant team members, franchisees, support center employees, suppliers, and our board of directors – who each contributed to the incredible success we achieved. I am extremely proud of the meaningful progress we made this year against our three strategic growth pillars as we continued to grow our breakfast business, accelerated digital sales, and expanded our global footprint. These successes further cemented our position as the number two brand in the U.S. QSR burger category.
Let's celebrate a few noteworthy moments from 2021:
Breakfast  
Our breakfast daypart remained a driving force behind the U.S. business in 2021. From being the Official Breakfast of March Madness®, serving up free breakfast during key moments-in-time like Friday the thirteenth, to offering the fan-favorites Bacon or Sausage, Egg & Cheese Biscuits for just a buck, we've shown up for our customers in a big way when it comes to their morning meals. Our breakfast business continues to grow, and Wendy's croissants, biscuits and Frosty-ccino® drinks are becoming America's favorite new way to start their day.
In just over a year and a half, we moved to the number three spot in terms of overall morning meal share in the QSR burger category, and we're just getting started. I'm excited for what we have planned for our U.S. System to go big in breakfast in 2022.
Digital
Convenience and ease of ordering is essential to our business, which is why we've doubled down on a frictionless customer experience and why this year, digital was a huge part of our global business. Each of our innovative product launches was buoyed by a digital component — from exclusive in-app offers to encourage trial, to delivery capabilities to promote convenience — and we continued to prioritize creating thoughtful and seamless experiences for customers.
We also grew our Wendy's U.S. Rewards Loyalty program to nearly 19 million members, an increase of more than 50 percent, and made extensive user experience enhancements to our mobile app, including a more intuitive order and offer flow, scheduled pickup for carryout and the integration of Coca-Cola Freestyle®, an industry first. We also experienced impressive digital growth in Canada, partially driven by our growing delivery business, which recently added Uber Eats as a delivery partner. These successes drove a significant increase in digital sales across the globe.
In October, we announced a multi-year strategic partnership with Google Cloud to enhance how customers interact with us. We plan to leverage our partnership to create new ways customers can order food in the drive thru, on their mobile devices and much more. We're also expanding the ways customers can engage with Wendy's through technology like speech-to-text, Google Search and Maps, making it faster, easier, and more convenient for customers to enjoy the food they love. 
Expanding Our Footprint
In addition to continuous improvements to the virtual ordering experience, our team has developed innovative new restaurant models, like Smart 2.0 and Drive-Thru Only, to make ordering and picking up your favorite menu items even smoother. You'll see each of our new restaurant formats were designed to address today's customer ordering and dining preferences. 
We also introduced some unique dining formats to bring more Wendy's to more people in more places. For example, in Guatemala, our franchisee opened a restaurant built from a shipping container. Container restaurants have a modern and industrial look and feel, in a simple application that allows for fun and dynamic designs and branding. We also introduced two new concepts in the U.S: Wendy's Hamburger Stand and Frosty® Cart. The Wendy's Hamburger Stand is a smaller footprint restaurant that features a focused menu, and the Frosty Cart also features exclusives such as Frosty Fusions and Build Your Own Frosty Sundae options, allowing customers to enjoy their favorite dessert in unexpected places like the zoo!
In August, we announced a meaningful increase to our 2025 global restaurant growth target, with a new goal of opening 8,500 to 9,000 restaurants around the world. This increase was driven by a development commitment by REEF Kitchens for 700 delivery kitchens over the next five years in the U.S., Canada and the United Kingdom, the creation of a $100 million dollar build-to-suit development fund that we expect will drive approximately 80 to 90 new franchise restaurants from 2022 through 2025, and our Groundbreaker incentive program, where we secured approximately 240 incremental commitments that will further solidify our restaurant development pipeline over the next several years.
Speaking of brand expansion, we opened our doors in the United Kingdom this summer, arriving in Reading, followed by restaurant openings in Stratford, Oxford, Croydon, and Romford. The restaurant opening in Croydon also marked Wendy's 1,000th international restaurant, a significant growth milestone in expanding our global footprint. This announcement arrived on the heels of several Wendy's global development milestones celebrated throughout this year, including its recent 400th Canadian restaurant opening in Ottawa and 300th restaurant opening across the Asia Pacific, Middle East and Africa (APMEA) region in India.
Fast Food Done Right
In September, Wendy's introduced its brand-new Hot & Crispy Fries—our biggest food innovation and announcement of the year aimed to take a stand against the cold, soggy fries served at our competitors. We're so confident in our new fries, we even launched a Hot & Crispy Guarantee, allowing customers to replace their fries if they're not hot and crispy when they receive them, no questions asked.
I'm continuously amazed by our Culinary Team and their ability to consistently innovate our menu to bring fans more of what they crave. This year, our team introduced three new innovations to our unique Made to Crave platform. From our Jalapeño Popper Chicken Sandwich and Salad, to the Bourbon Bacon Cheeseburger and the Big Bacon Cheddar Cheeseburger, each product leans into our food vision—Fast Food Done Right—ensuring we're delivering on-trend, uniquely Wendy's items that our customers deserve.
Good Done Right
As we look to bring more Wendy's to more people, our Corporate Responsibility platform, Good Done Right, closely guides our growth strategy. Earlier this year, we created a Diversity, Equity and Inclusion function, led by the newly created position of Chief Diversity, Equity and Inclusion Officer. Then in April, we released our 2020 Corporate Responsibility Report in which we shared new and ambitious goals informed by our engagement with nearly 1,000 diverse stakeholders as part of our materiality assessment. These goals will hold us accountable to the progress our employees, customers, community partners and suppliers have come to expect, and will further our vision of becoming the world's most thriving and beloved restaurant brand. I encourage you to read about the significant progress we made this year across three critical areas of our business – Food, People and Footprint.
My Senior Leadership Team and I are incredibly proud of these accomplishments, and the strength of our business and the Wendy's family is clear. We are honored that our fans invite us into their lives each day and we are grateful for everyone in the Wendy's family for another successful year.
From our Wendy's family to yours, we wish you a happy holiday season, however you may celebrate, and a wonderful start to 2022!
Take care,